Toothpastes & Mouthwashes
Dental care with xylitol
Xylitol is a natural sweetener found in the bark of different types of wood. In the past, extensive studies have been carried out on effects of xylitol in dentistry – with amazing results:
The presence of xylitol in the oral cavities slows down the production of acids in the plaque.
Acids, amongst other things, are responsible for the development of tooth decay and the demineralisation of teeth.
The long-term use of xylitol results in a reduction of plaque of up to 50%. Accordingly, xylitol contributes towards a reduction in bacteria causing tooth decay, primarily of Streptococcus mutans.
Toothpastes –
unique formulations for your dental health
The combination of active ingredients with xylitol, Swiss herbs and fluoride provides efficient caries protection for professional and daily oral hygiene. Well-balanced combined into three unique formulations: For sensitive teeth, for white teeth and for all-round protection. Effectiveness clinically confirmed.
Protects against tooth decay
Remineralises the enamel
Inhibits plaque and tartar formation
Strengthens the gums
Inhibits bacterial growth
Freshens breath

Info: Toothpastes & Mouthwashes

Helps remove discoloration
Brightens teeth effectively
Provides efficient protection from tooth decay
Inhibits plaque formation
Freshens breath

Info: Toothpastes & Mouthwashes

Revitalises the gums
Protects teeth against sensitivity
Provides efficient protection against tooth decay
Inhibits plaque formation
Strengthens the enamel
Freshens breath

Info: Toothpastes & Mouthwashes
Mouthwashes –
useful addition to your daily oral hygiene
TRISA mouthwashes support your daily oral hygiene – even in those places that are difficult to reach. When used regularly, the unique xylitol active complex helps keep your teeth and gums healthy.
These products may also interest you.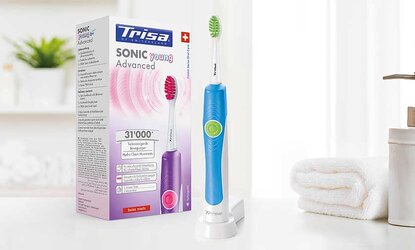 For professional and superior deep cleaning
The electric toothbrush suitable for the needs of every consumer.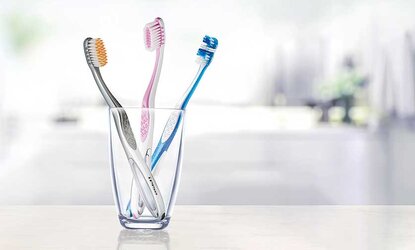 For gentle and effective cleaning
Elegant shapes and a full range of functions for individual needs.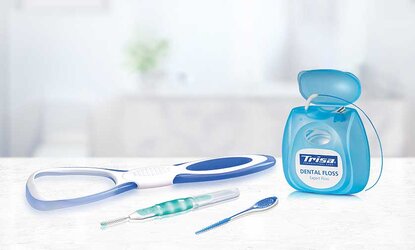 For all-round oral hygiene – even in the interdental spaces
Interdental care rounds off the daily tooth cleaning routine.