TRISA my Brush
Your friendly business card for everyday use
The individual toothbrush as a promotional gift for customers, business partners and employees. An innovative present produced in the heart of Switzerland, which underlines your demands for quality whilst making an impression at the same time.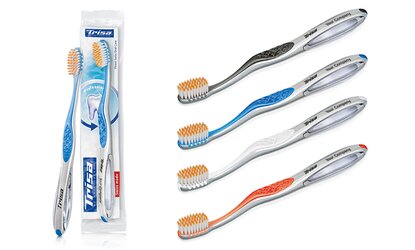 Pro Interdental
The Pro Interdental boasts long, silky-fine interdental bristles, which ensure deep cleaning in the interdental spaces. The shorter, cleaning bristles remove plaque thoroughly from the surface of the tooth.
Feelgood
The modern-looking Feelgood sports a compact brush head and even cleans difficult to reach places effectively. The combination of longer and shorter bristles cleans the teeth efficiently.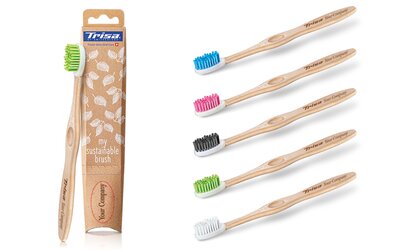 Natural Clean
The Natural Clean is a sustainable variant of FSC-certified Swiss beech wood and is biodegradable. The brush head and bristles are made of renewable resources for gentle and thorough cleaning.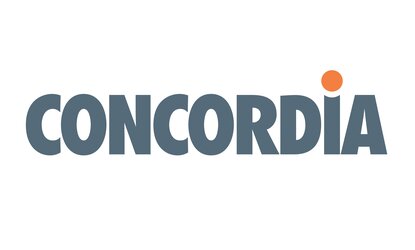 Concordia
«We consider the use of sustainable materials when selecting gifts for clients to be important. This is why TRISA's toothbrushes made of FSC-certified Swiss beech wood make such a good impression. The engraved logo on the wooden handle is a discreet but eye-catching measure that our customers will not forget.»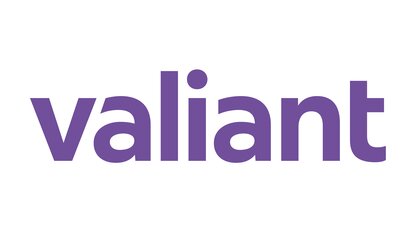 Valiant
«As a bank, we consider sustainable solutions to be important, particularly with regard to pension provisions. Both teeth cleaning and pension topics require future investment. Sustainably produced toothbrushes communicate this message to our clients simply and in everyday life.»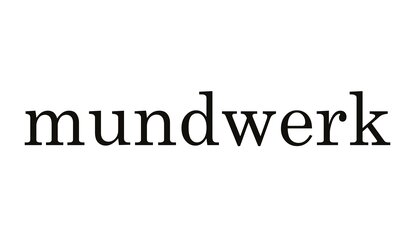 Mundwerk
«The well-being of our patients is of utmost importance to me and my team (dental practice mundwerk). In trying to find a suitable gift for our customers we asked TRISA to personalise a high quality toothbrush which now has become our much sought after "oral tool".»
Service Process
1. Select model

Choose your favorite toothbrush as well as your preferred color.

2. Printing

Define the wishes for the printing: lettering, logo/image

3. Quantity specification

Natural Clean from 1'000 piece
Pro Interdental from 1'080 piece
Feelgood from 5'040 piece

4. Contact

Contact us for all further information (prices, delivery dates, order) via contact form.